AWG work on ESG and aviation financing and leasing
AWG assesses, provides information on, and takes action relating to, ESG geared to the context of aviation financing and leasing. The foregoing includes the development of metrics, methods, emissions (and CORSIA-related liability) tracking, reporting and documentation and/or principles geared to the context of aviation financing and leasing.
AWG submits comment letter on EU Taxonomy as applied to Aviation
AWG submits comment letter on EU Taxonomy as applied to Aviation (Commission's draft Delegated Act supplementing Regulation (EU) 2020/852 and amending Delegated Regulation (EU) 2021/2178).
ESG review and assessment group
The Aviation Working Group is reviewing and assessing the potential impact on aircraft financing and leasing of rapidly developing ESG-related regulations, disclosure requirements, and government policies. That work, building on AWG's prior ESG activities (AWG carbon calculator and submissions on principles relating to green financing), includes consideration of potential industry practices in light of, and seeking consistency relating to, such regulations, requirements, and policies.
AWG has retained Watson Farley & Williams and Clifford Chance to provide support for this work.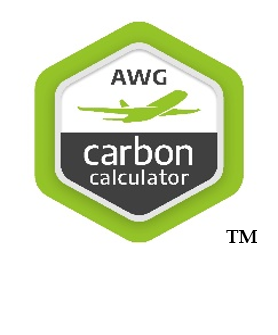 On 31 March 2021, AWG launched the AWG carbon calculator (ACC). The AWG carbon calculator has been developed to address the need for accurate, reliable, and consistent aircraft carbon dioxide emissions data to be available to aviation industry participants. 
The AWG carbon calculator uses original equipment manufacturer source data, which has been determined and provided for operational aircraft models under consistent standards, assumptions and methodology, and so the source data is both accurate and directly comparable.
Users of the AWG carbon calculator can provide aircraft-specific operational inputs, to generate accurate, reliable and consistent carbon dioxide emissions data for aircraft and aircraft portfolios, with the data presented visually through various tabular and graphical outputs. Default inputs for annual hours and cycles are also available as an option for users
All data, graphs and certificates are exportable, thus enabling users of the AWG carbon calculator to include them for internal committee meetings, corporate reporting, evidencing compliance with criteria required for green financing, investor presentations and offering documents.
The AWG carbon calculator will make it easy for its users to generate and compare accurate, reliable and consistent carbon dioxide emissions data for aircraft and aircraft portfolios.
AWG has released the AWG carbon calculator on 31 March 2021, and has prepared a press release and a short video introducing the AWG carbon calculator.
AWG will be permitting complimentary access to members of the aviation financing and leasing community for a trial period ending 15 May 2021 — to permit familiarity with this important tool for the industry.
Manufacturer data for the ACC is being provided by Airbus, ATR, Boeing, and Embraer.
The ACC will be developed by propel-ant, and AWG will be supported in its implementation by Watson Farley Williams. The ACC is part of AWG's work on Environmental Social and Governance (ESG), geared to the context of aviation financing and leasing.
AWG has retained Clifford Chance and Watson Farley Williams as co-counsel to advise AWG, and support its work, on ESG in the context of aviation financing and leasing. KPMG (aviation and sustainable futures group) has also agreed to provide advice to, and support this work of, AWG.
AWG supports global efforts to substantially lower and offset carbon emissions, ensuring sustainable development of air transport.
That supports extends to the ICAO's developed carbon offsetting and reduction scheme for international aviation (CORSIA). CORSIA seeks to stabilize CO2 emissions at 2020 levels by requiring airlines to offset the growth of their emissions after 2020. 
Financing that takes into account ESG principles and metrics geared to the context of aviation financing and leasing, including for acquiring and using modern aircraft and engines with advanced environmental technologies, is essential.
AWG has developed a statement of principles on the impact of environmental regulation.
AWG principles applicable to EU taxonomy on green financing
AWG has submitted a letter to the EU Commission on the EU taxonomy draft technical screening criteria for passenger air transport.
The above letter, builds on a prior AWG submission letter to the EU Commission on principles for the EU taxonomy on green financing applicable to aviation financing and leasing.
In that letter, AWG expresses support for a single international system for classification of green aircraft financing and leasing, to avoid conflicting national or regional standards, based on 5 principles:
Principle 1 – feasible improvement standard 
 'Environmentally sustainable' in the context of 'the sale, lease and operation of aircraft' should be measured in terms of feasible and meaningful improvement. The use of less carbon-intensive aircraft should be considered to 'contribute substantially' to climate change mitigation. The physics of flight, safety testing requirements, and the practicalities of production compel this standard.
Principle 2 – incentive standard
The classification of an aviation-related activity as 'environmentally sustainable', and its potential economic and social benefits, should be an incentive for selecting a less carbon-intensive option, having regard to all material selection factors: including, availability, CapEx, OpEx, seating/cargo capacity, safety, and operational requirements. That incentive should not be limited to new aircraft, but, rather, should be based on meaningful reduction in CO2 emissions.
Principle 3 – aircraft class differentiation standard
Aircraft classes (regional, single-aisle, wide-body and subcategories thereof) should be used in connection with the 'best performance' criteria for green-financing qualifying 'transitional activities'. Best performance is a technical concept, not numerically capped.
Principle 4 – ICAO certification standard
Whether an aircraft meets the applicable 'best performance' threshold should be determined with reference to ICAO aeroplane CO2 emissions certification. That is a UN-endorsed, internationally recognized standard.  It is based on the technical characteristics of an aircraft without consideration of its utilization, which financiers and lessors cannot control.
Principle 5 – data-based self-reporting standard
Monitoring and regulation should be centered on data-based self-reporting standard. That is the simplest and least costly approach. The objective nature of the ICAO certification standard (principle 4) makes that feasible. Determination should be made at the time of financing or leasing. The AWG carbon calculator could be used to report supplemental information in a consistent and comparable manner.
AWG's commitment to diversity and inclusiveness
The aviation leasing and financing industry, like most other industries, needs to substantially enhance diversity and inclusiveness in the workforce. That applies at all levels of companies and across job and skill types.
Diversity and inclusiveness are linked to enhanced profitability, problem-solving capacity, creativity, and work satisfaction.
AWG is committed to encouraging and promoting diversity and inclusiveness in our sector, and is considering a range of activities to facilitate that objective, including:
creating a forum for exchange of views on best practices
encouraging or supporting research, training, and educational programs
AWG research fellows program
In 2021, AWG established the AWG research fellows program. The program encourages participation by students with diverse backgrounds, minorities, and women in the aviation financing leasing industry by supporting their research on topics relevant to AWG projects. Research categories are:
Environmental Social and Governance
International tax
Cape Town Convention
Electronic commerce
Economic impacts of regulatrory development and rule of law
First research fellow selected for AWG research fellow program
The Aviation Working Group selects the first research fellow for the recently launched AWG research fellows program, Michelle Lee, a Georgetown University law student. Ms. Lee will conduct her research on compliance with private law international treaties (such as the Cape Town Convention), with a focus on state responsibility for judicial acts or omissions
Information on applications, deliverables and process can be found in AWG's request for expression of interest.